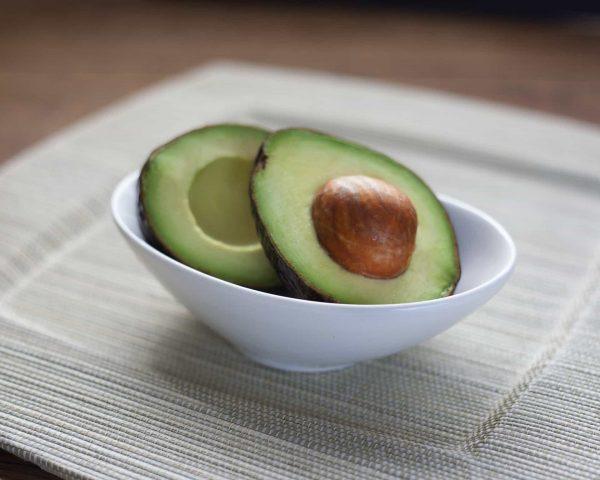 There are plenty of foods to improve hair quality out there that have nutrients in them that can also help stimulate your hair growth. And while you should already be incorporating these foods into your diet, you'd be wrong if you thought all you could do was eat them. That's right! You can make your own hair treatments with many of the foods you already have in your home. These nutrient-packed mixtures can greatly improve the health of your scalp and create an optimal hair growth environment. Results will vary, but here are 6 different foods you can apply to directly to your hair, and how:
Avocados
Among foods that stimulate hair growth, avocados might be king. You might think of applying avocados to your hair as something new, but it goes all the way back to the Ancient Egyptians. Avocados can be mixed into a mask that you apply to your hair. All you need is an avocado and olive oil!
Why it works:Avocados are great topically because of their richness it vitamins and minerals. Vitamins B and E help to protect your hair and make it stronger. Vitamin E also can help to repair damaged scalps and promote the growth of hair follicles. The olive oil you add to the mixture is used as a moisturizer, which can help with a dry scalp and split ends. It also adds protein to your hair and helps remove excess sweat build up, which can block hair follicles and prevent growth.
How to use it: First, mix 2 tablespoons and 1 avocado together in a small saucepan. Stir the mixture over low heat on the stove until it is warm. You can also microwave it if you prefer. Once warm, stir and then evenly massage the mixture into your hair and scalp, paying special attention to your problem areas. Then place a shower cap on your head and leave the mixture in for 20 minutes. After 20 minutes, rinse it off in a warm shower. Since this can't cause any harm to your hair, you can use this mask as often as you'd like.
Spinach
It's sort of ironic that Popeye was bald, given that he ate so much spinach! With how many nutrients are packed in this superfood, he should have had some Samson-like hair to go along with his megamuscles. Spinach is another great food for healthy hair that can be made into a paste.
Why it works:Rich in antioxidants, spinach is high in vitamins K, A, C, B2, B6, B1, E, manganese, zinc, iron and omega-3 fatty acids. The antioxidants help your hair avoid damage and improve your scalp health, while the other vitamins encourage hair growth and improve the oxygen supply to hair follicles. These nutrients help nourish your scalp and hair, ensuring healthy hair growth. Spinach is its own natural hair growth cocktail!
How to use it: For this mixture, combine1 cup Spinach Leaves, 1 tbsp. Honey and 1 tbsp. Olive or Coconut oil. Throw them all in a blender until you get a smooth paste. Then apply it all over your scalp and through the length of your hair. Leave the mixture in for 30 minutes to 1 hour, then wash it out with cool or lukewarm water. You can apply this mixture 1-2 times per week.
2b. Spinach
Bonus for spinach! There's also a second mixture you can try that aims to further boost circulation to your scalp and improve healthy hair growth.
The honey and oil in this pack help seal the nutrients and moisture in your hair, keeping it healthy and damage-free. It also helps soothe your scalp, and improve circulation to boost healthy hair growth.
Why it works:See above.
How to use it: In this second spinach mixture, you'll combine a ½ cup of spinach with ¼ cup of olive or coconut oil. Blend the spinach like before, but this time use a cheesecloth to separate the pulp from the juice. You will then mix the pulp with the oil and massage into your scalp for 15 minutes. Leave the oil in for 45 minutes, then wash out with cool or lukewarm water. This mixture can be applied a little more often, 2-3 time per week.
Eggs
The thought of rubbing egg yolks into your hair might make you cringe, but it can work wonders for your hair and scalp. Egg yolks are jam-packed with nutrients. They contain essential vitamins (A, D, E, B9, B12, B6, K, and more) minerals (sodium, potassium, calcium, iron, phosphorus), fats (saturated, monounsaturated, polyunsaturated, cholesterol) and protein.
Why it works:The protein in egg yolks is essentially the same as the protein that makes up our hair. Our hair has lipins on the strands that are constantly replenished by the sebaceous glands. Egg yolks have the same lipids, so they can perform the same function if your hair isn't naturally performing this procedure as it should. Essentially, the yolks can reinforce your hair, especially where damage has occurred. Egg yolks can also make your hair shinier. To be clear, this mask won't make your hair grow but will make existing strands stronger and more resilient.
How to use it:Thoroughly mix 1 egg yolk, 1 tablespoon of castor oil and 1 tablespoon of olive oil. (These measurements are for shoulder-length hair, use more for longer hair.) Once you've reached the desired thickness, apply the protein mask to your hair. Cover your hair with a shower cap or wrap a towel around your hair and leave the mixture in for 20 to 30 minutes. Make sure you do notrinse with hot water or use a hair dryer to dry. Let your hair dry naturally. You can repeat the process 2-3 times per week as desired.
Protein Mask
Protein treatments are useful to your hair to protect the hair shaft and counter against structural and mechanical damage. There are many DIY protein masks out there, and the ingredients are interchangeable, but you can use the one below as a base. This one packs a good punch of keratin and soy as well as amino acids, all great for your hair.
Why it works:Protein treatments work be adding a protective coat to keratin fibers, which protects your hair strand from damage. Some proteins will also repair the cuticles to reinforce the overall strength of the strand. These treatments wear off over time, so they are best when repeated. This mixture nourishes the hair and keeps it strong, but does not directly produce hair growth.
How to use it: This recipe involves a dollop of yogurt (size depends on your hair length), ¼ cup of coconut milk, 2 tablespoons of coconut or olive oil, 1 tablespoon of hydrolyzed keratin, ½ tablespoon of soy protein, ½ tablespoon of silk protein, 1 tablespoon of liquid aminos and any essential oils of your choice. The proteins enhance the mask but are not mandatory.
For this mask, you can prep your hair my washing it with conditioner. Mix the ingredients together and apply the mix to your hair. Do not sit under a dryer, rather let it thicken naturally by wearing a shower cap and using your body heat. This mixture should not get too hard. When you are satisfied with the texture, rinse it out and wash again with a moisturizing conditioner.
Baking Soda
Washing your hair with baking soda is a quick and easy way to give your hair a great cleaning. Shampoos often contain harmful chemicals that can strip your scalp of its natural oils, which can damage your hair and lead to some thinning or loss. Baking soda, when used sparingly, can do wonders for your hair.
Why it works:Baking soda not only removes the chemicals you put in your hair, but it also takes away water impurities from your shower. When you stop using shampoo, you may find that your natural oils return to your hair, and it will feel more oily than normal for a few weeks until your scalp adjusts. Baking soda works even better as a cleanser when combined with a vinegar rinse.
How to use it:Simply mix 1 tablespoon of baking soda with 3 tablespoons of water to create your baking soda shampoo. This mix is for shoulder length hair, so make more as needed. Apply the mixture to wet hair as you normally would your shampoo, but let it sit in your hair for a couple minutes before rinsing.
For the vinegar rinse, mix 1 part apple cider vinegar with 4 parts water. You can add essential oils to the mix to minimize the vinegar smell. Use a squeeze bottle to pour the mixture into your hair evenly, and avoid getting in your eyes. Leave it in for a few seconds then rinse it out with cold water. The cold helps seal in the moisture and add shine. Use this washing method every 2 to 3 days and don't worry about the lack of lather; it's working!
Beer
You probably wouldn't have guessed that beer would make the "food for healthy hair list," but yes, believe it or not, flat beer can bring back life to your flat hair. The properties in beer are good for your cuticles and repairing damaged hair.
Why it works:The yeast found in beer helps to plump up the hair cuticle and add volume to your hair. The hops and barley are also rich in vitamins to help encourage healthy hair growth. Beer is also rich in proteins that nourish your hair, make it stronger and seal in the hair shaft, and the malt can make it smooth and shiny. Plus, the alcohol acts as a cleaning agent. So, when it comes to your hair — beer does it all!
How to use it:There are actually a few different ways to use beer for your hair.
First, you can use it as a conditioner. There is no grand recipe for this one, simply wash your hair as usual, then as a final rinse, pour a flat, room temperature beer onto your hair. Massage it well into your scalp. Leave it in for a few minutes, then rinse and condition your hair. This will increase the shine and volume of your hair.
Second, you can make a mixture of a ½ cup of beer, 2 teaspoons of apple cider vinegar and a ½ cup of warm water. The vinegar helps to cut the smell of the beer. Repeat the process above with this solution.
Lastly, you can make a mask for your hair with beer. Pour your beer into a spray bottle and spray it over your hair, and massage your scalp. Leave it in for about an hour before your rinse it out.
One tip with the beer treatments is to always open the beer and let it go flat, fizzy beer is not good for your hair. And since beer has a strong smell, you will probably want to use a conditioner after using any kind of beer treatment. But in the end, you may enjoy the results so much that you start keeping beer in the bathroom. It's a win, win!
There is no perfect diet for healthy hair, but trying out any of these hair masks, made from foods for healthy hair that you already know and love, can go a long way.
Result-Driven Methods
While these are all great ways to improve blood flow and nutrients to your scalp, you should combine these methods with FDA approved products that are scientifically proven to bring you results. Make sure the products you select contain Minoxidil. Minoxidil is proven to help stimulate hair growth and is FDA approved. Other ingredients you should look for to help with hair regrowth include amino acids, biotin, chamomile, and green tea. Scalp Med offers a shampoo containing the listed ingredients that is also paraben and sulfate free. Of course, the most important thing to remember is combining a healthy diet, healthy foods, and result-driven products.