ScalpMED® Multi-Patented Formula
ScalpMED® TECHNOLOGY
Backed by 11 Patents Worldwide
To date, ScalpMED® has been granted 6 U.S. and 5 international patents, with more patents pending. This is a remarkable achievement that is unparalleled in the field of hair loss and hair re-growth. The United States Patent and Trademark Office and other international agencies issue patents to inventors who create products, technology or processes that they deem exceptional enough to warrant protection against copying by others. To attain a patent, an invention must meet a strict set of criteria regarding its usefulness and uniqueness. The following are a few examples of patents awarded to ScalpMED®.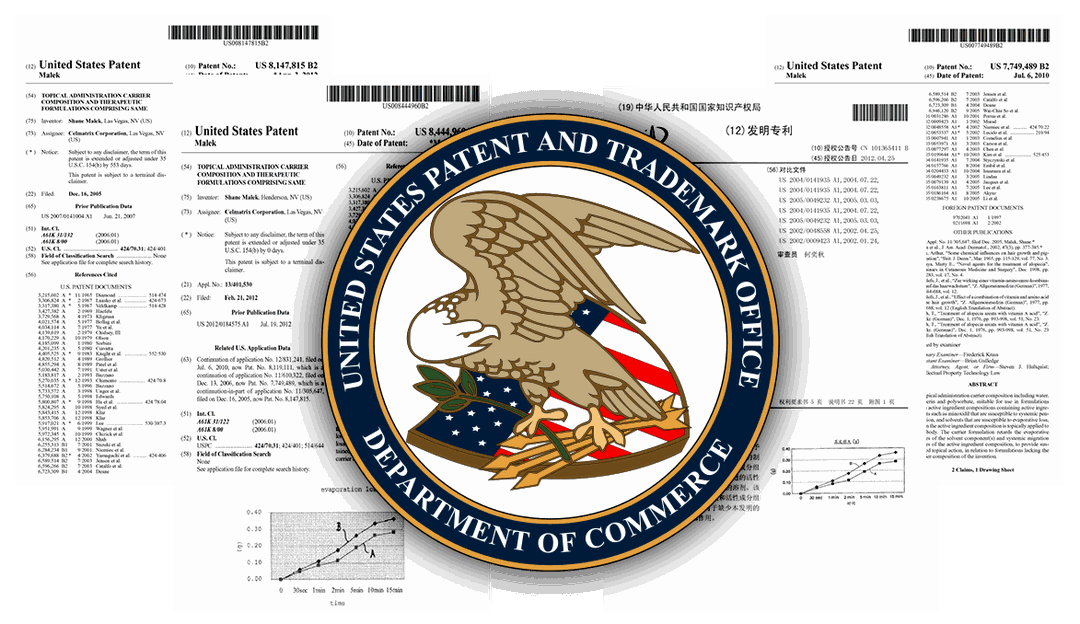 BELOW ARE SOME EXAMPLES  OF OUR PATENTS:
ScalpMED® US Patent 8,444,960 (issued May 21, 2013)
Topical administration carrier composition and therapeutic formulations comprising same
ABSTRACT
A topical administration carrier composition … suitable for use with compositions containing active ingredients such as minoxidil that are susceptible to volatilization and transdermal penetration in application to the body. The carrier formulation retards the evaporative and systemic migration losses of the active ingredient composition, to provide sustained topical action, in relation to formulations lacking the components of the inventive composition.
DESCRIPTION
FIELD OF THE INVENTION
The present invention relates to topical administration carrier compositions for use in preparing formulations including therapeutic agents and other active ingredients, for administration to scalp, skin and other topical areas of the body.