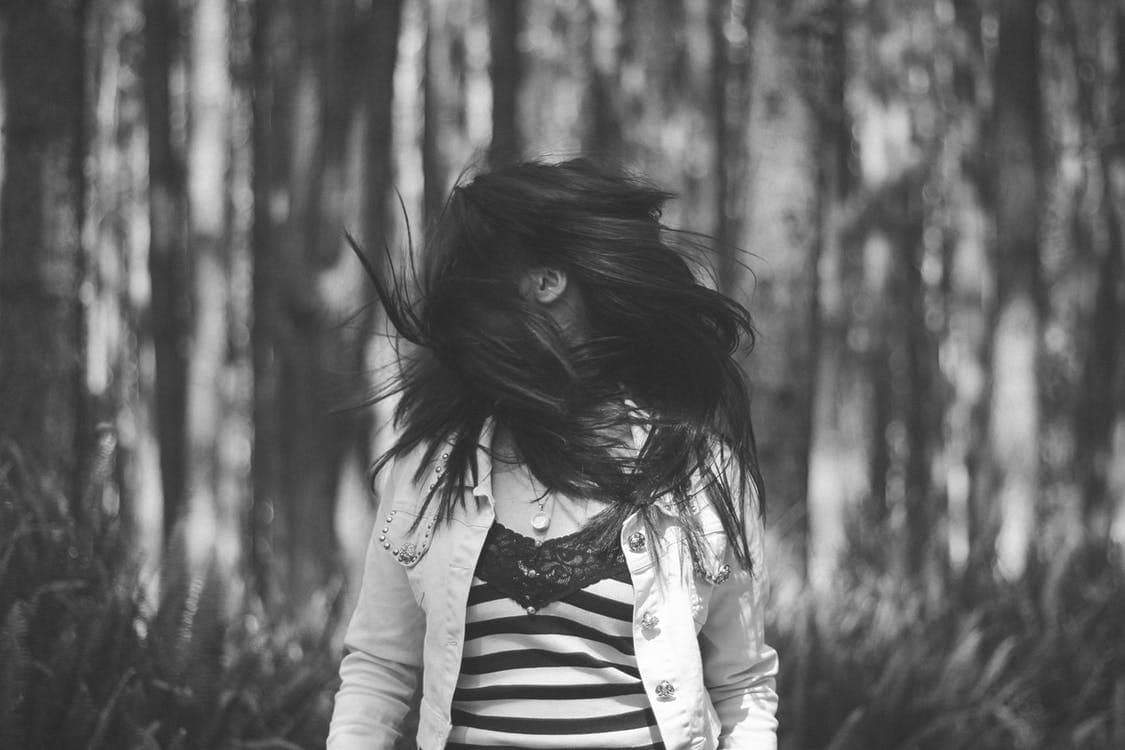 Significant and sudden hair loss can be inconvenient, embarrassing, and downright aggravating, leading some women to become self-conscious or insecure about their appearance. For women, hair loss may not seem as commonly discussed as it is with men. However, 30 million women suffer from hair loss every year. It is not a rare occurrence to face this condition in some form at some point throughout your life. There are different causes for hair loss in women that range from short-term stress to long-term, medical conditions that require continuous or more aggressive treatment.
Hair has three cycles it goes through: the growth phase, the rest phase and the shedding phase. Women often talk about the first phase when they're trying to grow their hair long or try growing in bangs. They discuss how some women experience faster hair growth than others, differences in the weight of hair, and how it grows in differently for each person.
As the cycle runs its course, the shedding phase begins. Most people lose up to 100 strands of hair per day and up to 250 strands or more when the hair is washed. If you're thinking about normal hair loss on that level, that's still nearly 2,000 strands of hair a week for those who wash their hair daily. For women who experience abnormal sudden hair loss, this amount can easily double or even triple.
What are causes of hair loss in women and what can we do to prevent it? Read on to learn about the most common topics addressed when it comes to hair loss in women. If you are experiencing female hair loss, know that you are not alone and in the majority of cases, there are hair regrowth products for women available for you.
Medical Names for Hair Loss
Hair loss is a broad term for the specific, clinical names for different types of hair loss. While some women may experience hair loss at sporadic times, others will routinely struggle with the condition until they found a solution fit for them. Some of the most common types of hair loss include:
Alopecia – Incurable, sudden hair loss that begins with circular bald patchy hair loss due to an overactive immune system affecting 200,000 to 3 million people a year.
Telogen effluvium– A treatable hair loss condition that occurs when a person is facing a stressful experience.
Female pattern baldness– Baldness is typically talked about among males, but females also can experience permanent hair loss from the scalp, resulting in non-regrowth of hair.
Although, as discussed previously, shedding is completely normal, if there is an excessive loss of hair, consulting with a doctor or medical professional can help diagnose the condition. The sooner you speak with someone regarding your hair loss and any associated symptoms, the sooner a solution can be found for you.
Common Causes for Hair Loss in Women
Stress
Stress is one of the leading factors that cause temporary hair loss in women. When there has been a significant stress-inducing event, it can change the cycle of the hair and lead to an increased loss during the shedding phase. Additionally, if anxious or nervous, it can be easy to mindlessly twirl, pull, or even chew on the hair, causing more follicles than normal to fall out. Stress is often the culprit behind thinning hair in young women, especially, due to the transitions they face through their late teens and 20s.
Post-Pregnancy
Women who have just had a baby frequently experience abnormal hair loss that for the most part occurs short-term. They may lose their hair by shedding more often or in different patches on the head. This can be attributed to the fact that during pregnancy there is a rise in hormones that prevents hair loss. Many women actually experience fuller, stronger hair while pregnant due to pre-natal vitamins. However, post-delivery, the hormones resume back to normal, which allows the hair to fall out as part of its normal cycle. The regular hair loss that was delayed during pregnancy may then occur all at once.
Protein Deficiency
The lack of protein in one's diet is another trigger to hair loss in women. There are different types of diets that don't give strong focus to the protein-rich foods needed for the body's daily intake. Fish, meat and eggs are good sources of protein that can easily be incorporated into a daily diet. For non-meat eaters, there are still several alternatives, such as nuts, quinoa, and beans. If you have questions about if you're getting enough protein in your diet, consult with a nutritionist or your doctor to implement a healthy eating plan.
Hormonal Imbalance
Hair loss in young women is more common if they switch birth control medication or stop taking it altogether. The flux in hormone levels can cause side effects, such as hair loss, to occur. Anything that interrupts the hormonal balance in the body can be a factor in a woman losing her hair.
Anemia
Anemia affects every one in 10 women ages 20 through 40. Symptoms of anemia include fatigue, headaches, dizziness, cold hands, and hair loss. The condition is due to an iron deficiency and can be helped by taking an iron supplement daily.
Dramatic Weight Loss
Female hair loss is a symptom of something else occurring in the body. When sudden changes occur, the hair cycle responds accordingly. A sudden drop in weight due to an illness or eating disorder can cause hair to fall out at a rapid pace.
Many of these listed causes are short-term conditions that lead to hair loss in women. However, many females face more long-term challenges of hair loss due to hormones or simply heredity.
Hair Loss Diagnosis and How It Differs for Women
Hair loss for men is more straightforward than it is for women. Nearly 90 percent of hair loss cases in men are due to hereditary male pattern baldness. They can almost count it as a certainty if other men in their family have experienced baldness throughout the years. It's not the same story for women. We've already uncovered the various causes for hair loss in women, which are due to a range of conditions and circumstances.
In order to properly diagnose the reasoning behind hair loss, there are tests that can be performed to pinpoint the triggering factor(s). The tests can eliminate the possibility of certain conditions and help in finding a cause for those disorders that are treatable. Sometimes with testing for hair loss, it's a process of elimination to get to the root of the problem.
Common diagnostic tests that women may experience include testing for:
Hormone levels (DHEAs, testosterone, androstenedione, prolactin)
Serum iron
Serum ferritin
Thyroid stimulating hormones
VDRL (a screening test for syphilis)
Complete blood count (CBC)
A doctor may also recommend to-do a scalp biopsy, which involves removal of a small portion of the scalp to be evaluated under a microscope. The hair pull test is another optional diagnostic test, which is just as it sounds. A doctor will gently tug at a small amount of hair at the same time to determine if excessive loss is apparent. Typically speaking, a "normal range" is one to three hairs shed per pull.

What to Do About Hair Loss
If you have inherited baldness or other conditions, which lead to hair loss, this can't be changed, but there can make lifestyle choices that will help protect the hair you do have. The first place to start is taking a close look at your current diet. Lack of certain vitamins, such as iron or zinc, will lead to hair loss. You can make sure that your diet is full of nutrient-rich foods, including spinach, kale, beans, and leans cut of meat or tofu for vegetarians or vegans.
Some professionals may recommend a scalp massage for clients who experience frequent hair loss or thinning hair. The reason behind this suggestion is to increase circulation to the scalp to help feed the hair follicles the nutrients essential for hair growth.
There are several holistic approaches to hair thinning. Women can help their hair grow in thicker using over-the-counter remedies and solutions. Depending on the situation, your doctor may write a specific prescription to address hair loss in women. Remember that each situation is unique and what works for one person may not always work for someone else.

How to Style Hair When Experiencing Hair Loss
Many medical conditions do not lead to full loss of hair. There are creative styling tricks to help make the most of thinning hair or bald patches. Switching the part of your hair can cover up the patchy areas. It's also a way to add volume to the hair to make it seem fuller than it actually is.
Refrain from using products on the hair that generate heat. Air dry your hair whenever possible because heated tools can make hair break off faster and damage hair growth.
Choose a brush that is gentler on your scalp. Metal or hard plastic bristles can rip out hair at the follicles, but a brush that is made out of more flexible or natural materials can be easier on the head and the hair.
Select a haircut that's not only flattering, but adds volume. Typically speaking, shorter cuts are better for thinning hair to show more fullness. This can hide temporary baldness or areas where hair loss is most noticeable.
Living With Hair Loss
Millions of women experience hair loss every year. There are hair regrowth treatments designed specifically for females in order to help boost hair growth and build stronger, fuller hair for those who experience thinning and excessive shedding day after day. Scalp Med is a hair growth product that stops and reverses hereditary hair loss and thinning with its special, two-step process. In a consumer study, over 95% of people said that experienced remarkable hair growth. Those who use the product will experience subtle changes at first, but within 4-6 months will be able to see noticeable results.
Let's face it, hair loss can be a frustrating experience to say the least, but with treatments like Scalp Med available, it can be managed. In addition to altering your diet to support healthy, strong hair Scalp Med's topical treatment can help you jumpstart the hair regrowth process and significantly increase the amount hair you have.
Scalp Med's two-step process consists of Nutrisol ® and Vitadil ®. The first step, Nutrisol ® preps the scalp creating an ideal environment for healthy new hair to grow. Next, Vitadil ® delivers maximum-strength Minoxidil, the only clinically proven ingredient to safely cause hair growth. Scalp Med's patented formula works to help users regrowth their hair without all the side effects that come from taking a prescription or having surgery. Hair loss in women is more common than initially realized or spoken about, but fortunately, there are solutions available for nearly any situation. No matter what type of hair loss you are experiencing, there are solutions. Whether your hair loss is from emotional stress or a  medical condition, there are options to try before going through a hair transplant.