A Patented, Clinically Proven Non-Surgical Solution to Hair Loss

IN A RECENT INDEPENDENT IN-VITRO STUDY††† BY ONE OF THE TOP DERMAL AND TRANSDERMAL RESEARCH LABORATORIES IN THE WORLD SHOWED THAT SCALP MED® KEPT THE ACTIVE INGREDIENT LOCAL (AT DERMAL LEVEL) FOR UP TO 6 TIMES LONGER. READ MORE…
The most common cause of hair thinning and hair loss is androgenic alopecia which is caused by constriction of blood flow and nutrients to the follicle, causing the hair to die off prematurely and grow weaker and weaker until the follicle becomes totally vellus, meaning it is completely detached from blood supply and is incapable of forming a healthy hair.
The best way to fight this phenomenon is to dilate the capillaries and open potassium and nutrient uptake channels to each follicle. Consequently, the longer these channels are open the longer each follicle is receiving "CPR" and the faster and stronger it will be nursed back to health. (Other studies are planned and/or in progress and will be posted as soon as conclusions are available)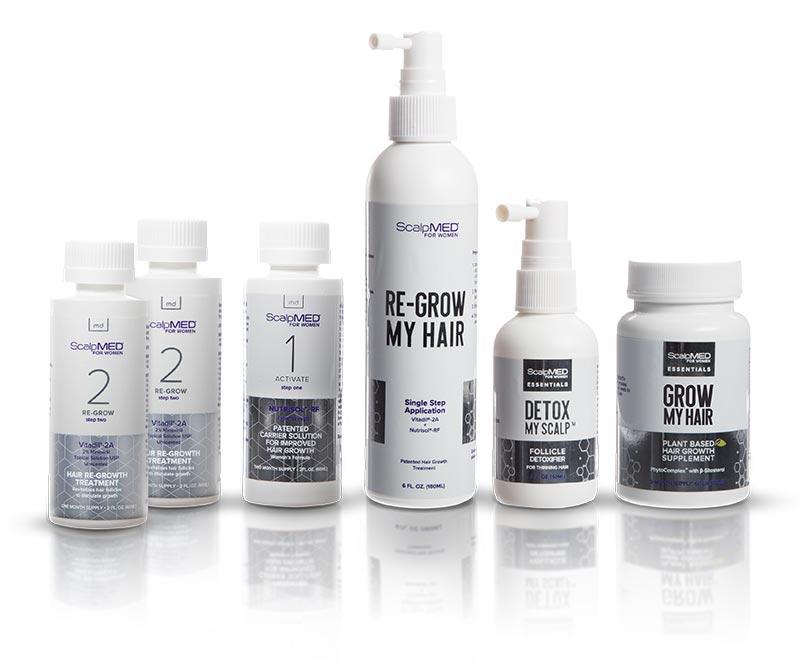 OUR TECHNOLOGY
IS TRULY UNIQUE
NutriSol® is what truly separates ScalpMED® from other hair re-growth and hair growth products. NutriSol®'s patented formula is designed to keep nutrient channels open for a much longer period of time with each use. It also contains key ingredients to help nourish the scalp and individual follicles as well as protect against flaking and itchiness.
Vitadil®  is the ONLY FDA-approved ingredient clinically proven to regrow hair.††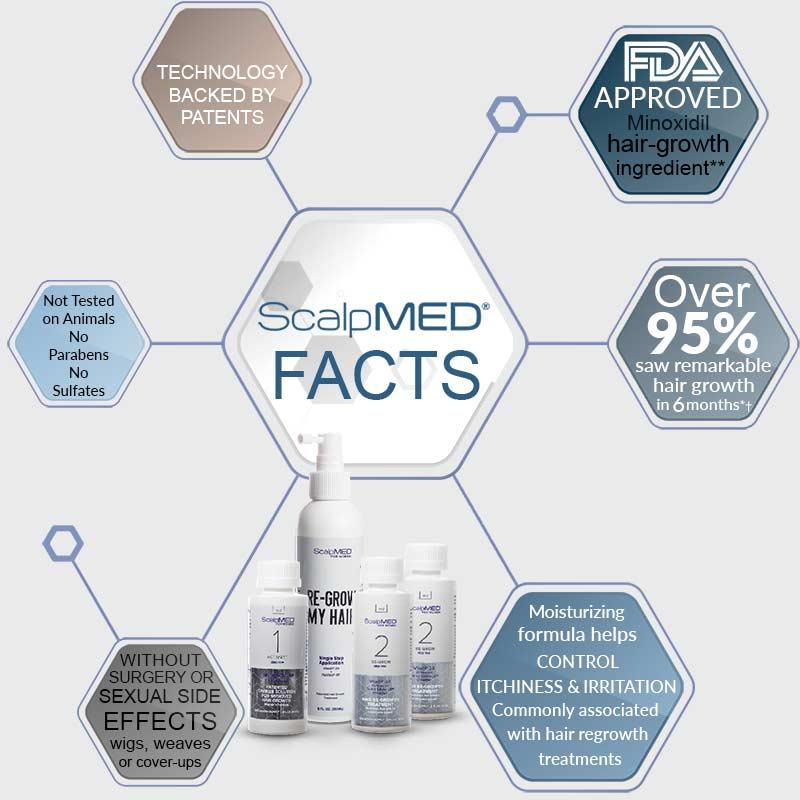 ScalpMED® is a proven-effective regimen for MALE and FEMALE hair loss and thinning hair. ScalpMED® uses an innovative process not found in any other hair regrowth treatment. Our proprietary process combines NutriSol®, our own, multi-patented topical administration carrier composition, and Vitadil®, our clinical-strength, FDA Approved minoxidil-based treatment formula.†† We say ScalpMED® is "stronger than genetics" because it halts and reverses hereditary hair loss and thinning, known as male-pattern and female-pattern baldness. ScalpMED®'s unique process can also restore hair lost due to non-hereditary factors.

ScalpMED® also offers a complete line of daily care and treatment for hair and scalp health designed to help you stop and reverse male and female hair loss by attacking the problem from multiple angles. These include ScalpMED®'s Nutrient-Rich Shampoo and Intense Conditioner, our Panthenol-DX Follicle Detoxifier, our Cortex Enlarger Thickening Spray, ScalpMED® Herbal Hair Supplements, and our Complete Care Solution for Thinning Hair. For more information visit our Products Page.

All ScalpMED® daily care and treatment products are:

• Formulated specifically for thinning hair
• Designed to nourish your hair and scalp for stronger hair growth
• Free of artificial preservatives
• Free of artificial dyes
• Paraben-free
• Sulfate-free
• Cruelty-free

Our Nutrient-Rich THICKEN MY HAIR Shampoo and REPAIR MY HAIR Intense Conditioning treatment with 22 key amino acids, vitamins and nutrients are made with certified organic ingredients, to provide your hair and scalp with the optimal protection and strength to rebuild and grow to their thickest and healthiest potential.
Safely Regrow Your Hair For As Low As $1.39/Day
15 Years...11 Patents...2 Million Customers...